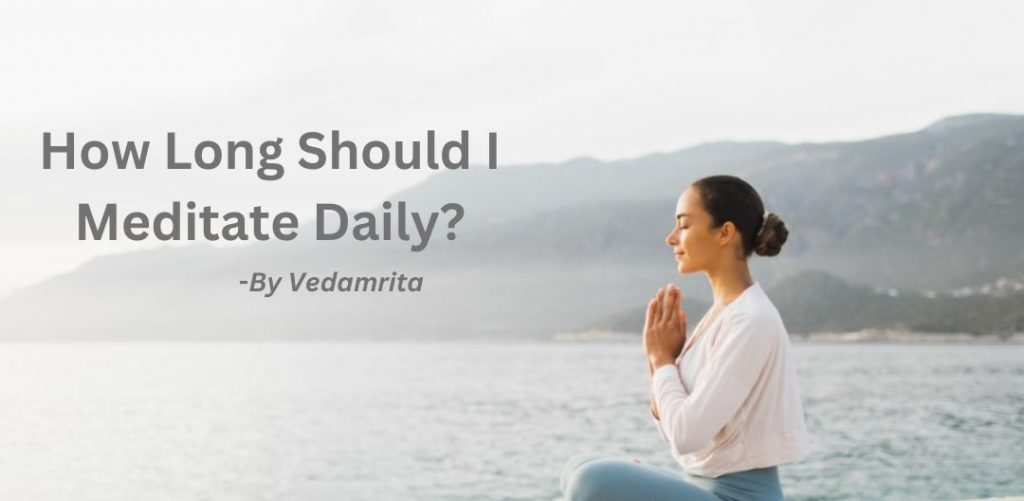 Welcome to the guide – How long should I meditate daily? by Vedamrita.
When it comes to reducing anxiety and stress, meditation is the only answer we usually get. Of course, this is the process of cooling and calming our minds and body. But it is also essential to know how much time we should meditate and how often we should meditate. Before moving to these questions or situations, we should know about the importance of meditation. Let's dig in.
Importance Of Meditation
Below are a few points that will tell you the importance of meditation:
Meditation calms our mind and relaxes our body

It increases the level of positivity.

Boost self-esteem and self-confidence.
Know The Right Time For Doing Meditation For You
If the meditation is done at the right time, then it will increase the benefits of meditation. So, you must know the right time for meditation. 
Well, it ultimately depends on you which time you are free. But it becomes more beneficial if you do it early in the morning as there is complete peace, and you can easily meditate. But, now the question is how often we should meditate, which is very important in the journey of getting peace of mind.
How often should we meditate?
The ultimate goal of meditation is peace of mind and relaxation of the body, which can only be fulfilled if done regularly. Consistency in meditation will bring numerous benefits and add positive value to life. You can meditate once or twice a day, depending on the time you get, but it should be in your daily routine to meditate once a day.
Now, the next thing we are going to discuss is the most asked question by the audience "How long should I meditate daily?"
How long should I meditate daily? – Know More
The answer to the question depends on your situation and your schedule.
Depending On Your Situation
If you are a beginner trying to add meditation to your daily routine, you must practice it for at least 10 minutes a day and stick to it. But if you have been meditating for the past few months, you should meditate for at least 20 minutes. Many studies have shown that if you meditate daily for 20 minutes, you will benefit significantly from this. But it doesn't mean that meditation for a short period of length does not provide any benefits. Meditation for short periods of length is beneficial for beginners. 
Depending On Your Schedule
Along with your situation, it also depends on the schedule of your day. How much time of the day do you feel that you should give to meditation?
But remember that the longer you meditate, the more benefits you will get. So, the answer to the question, "how long should I meditate daily?" entirely depends on your situation and the day's schedule.
Conclusion
From the above information, you learned about the importance of meditation and doing meditation which time will have great benefits. So ask yourself, "how long should I meditate daily?" and start your journey to calm your mind. 
I hope the article has helped you find out the answer to your question, kindly submit your review and queries (if there are any) in the comment box; we will be more than happy to respond.